Memorial Books: Comparative and Global Perspectives
---
Public Humanities in the Classroom Workshop Series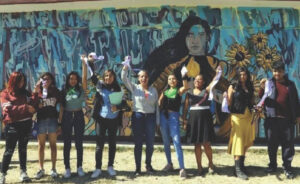 Led by Public Humanities Postdoctoral Fellow Elizabeth Gray, the workshops introduced faculty and graduate students to forms of project-based learning, community engagement, and public partnerships. Participants developed a public humanities component to an existing course and left with a toolkit of approaches that can be applied in the classroom.
If you missed the series, please contact us at humanities@psu.edu to access the recording.
---
Carol Anderson

Dr. Carol Anderson of Emory University joined the McCourtney Institute for Democracy on Tuesday, September 21 at 4:00 p.m. for a lecture on her book One Person, No Vote at the State Theatre.
In case you missed it, access the recorded lecture and the Q&A session here.
Co-sponsored by the Africana Research Center, Humanities Institute, and Richards Center
---

Who Counts? Struggles for Representation and Recognition
In 2020, a year that held both an election and the 100th year celebration of Women's Suffrage, the Humanities Institute organized events and other activities around the theme of "Who Counts? Struggles for Representation and Recognition." 
Our series mobilized around the question of who counts?—both in the sense of "who gets counted?" as well as "who does the counting?"—focusing on the multiple dimensions along which social and political representation has been achieved (and denied), the historically precarious attainment of political voice for all citizens, and the complexities of suffrage for all members of the citizenry who may be given a vote but wonder if they are given a voice.  
The history of struggles for representation and recognition in America was the subject of the third episode of HI's documentary series, HumIn Focus: 
Who Counts: The Complexities of Democracy in America. 
Centering on the troubled history and ongoing fragility of democracy in America, scholars in both the humanities and the social sciences were interviewed on the values inherent in democracy and the tenuous ways that institutions and practices in the U.S. have, and have not, lived up to those values.
Reflections on the meaning of democracy in a post-election America. 
Using Episode 3 as a springboard, coupled with the dramatic presidential election we witnessed in 2020, on December 10th HI Director John Christman talked with Dr. Cynthia Young, Head of the Department of African American Studies at Penn State about questions such as:
What is the place of protest movements in a democracy, and the trajectory of protests against anti-black racism in this country and around the world?
Repair institutional norms or push for radical solutions? What are the best next steps to restore and strengthen democracy?
What is the threat to democracy from abiding dynamics of inequality, including imbalances of political representation, wealth, and power?
What is the legacy of the fight for women's suffrage and the ongoing effects of patriarchy?
What is the role of mass- and social- media in fomenting or suppressing healthy democratic deliberation?
To listen to the recording of this conversation, follow this link. 
PLEASE NOTE: The following events were cancelled due to COVID-19. 
In Spring 2020, Prof. Michael Ralph of NYU–whose work focuses on the connections between slavery, debt bondage and institutions like the insurance industry–was to talk on how such connections can cast light on the way that human beings get counted in social, political and economic registers.  
Our Annual Humanities Lecture was to feature Prof. Qiana Whitted, Professor of English and African American Studies and Director of the African American Studies Program at the University of South Carolina. Her recent work focused on the ways that various social struggles and trauma, especially those involving civil rights, antisemitism, and other forms of prejudice in America, have been portrayed in comics and graphic literature
HI Conference 
The Humanities Institute hosts an Annual Conference as part of the Humanities in the World initiative and in partnership with faculty members through the Faculty Invites program. Conference topics may be in any area of humanities research, including interdisciplinary collaborations with other fields. Planning for upcoming conferences is currently underway.
International Colloquium on the Occasion of the Armistice Centenary, November 12 & 13, 2018
The first Annual Conference was held on November 12-13, 2018. Dislocation Beyond War's End: International Colloquium on the Occasion of the Armistice Centenary was hosted by faculty members Sophie De Schaepdrijver (History) and Nicolas de Warren (Philosophy). Under the general rubric of dislocation and discontent, the aim of the conference was to explore the many ways in which the First World War failed to end in November 1918.
The Status of "Truth" in Public Discourse and Human Interaction
The question of what counts as "true" or "knowledge" in humanistic disciplines has always been a vexed one. Answers to questions about the human condition inevitably involve interpretation, fractured evidence, contested testimony, and the poetics of expression. At the same time, the realities of social life, the dynamics of political struggle, and the need to face up to our history, demand an acceptance of truth and facts in some form. How to embrace truth while taking seriously the multiple ways that social understanding is complex and evasive, is the central question that motivates this initiative.
What counts as "testimony" and "evidence" when large portions of the population are systematically silenced or downgraded in their status as truth-tellers? How do we understand the past in order to face it? What levels of "ignorance" are we willing to tolerate about violence, deprivation, and the state of the planet? Can we face the challenges of understanding our social world?
In 2017-2018 we wrestled with themes of witnessing and reporting, with the history and insidiousness of "fake news" within media, and with nuanced realities around sustainability practices. In 2018-2019 we will continue this series of events to question and discuss what counts as "true" in a social landscape that is marked by deep difference and chasms of misunderstanding.
2018-2019 Events in The Truth Project
The Truth About Castes
Professor Divya Dwivedi of the Department of Humanities and Social Sciences at the Indian Institute of Technology, Delhi, asks if casteism is racism. She will challenge attempts by governments and academics to separate caste as it is still practiced today in South Asia from the broader contest of what elsewhere tends to be described in terms of race, ethnicity, and Volk.
Join us on September 11th, at 4:00 p.m. in the Foster Auditorium (in Paterno Library)
2017-2018 Events in The Truth Project
The Witness: A film by James Solomon
***Shortlisted for the 2016 Academy Award for Best Documentary Feature***
The name Kitty Genovese became synonymous with bystander apathy after The New York Times reported that 38 witnesses watched her being murdered – and did nothing to help. THE WITNESS, which premiered to critical-acclaim at the 2015 New York Film Festival, follows her brother Bill's search for the truth. In the process, he unravels a myth that transformed his life, condemned a city, and defined an era. THE WITNESS debunks one of America's most chilling crime stories as a brother reclaims his sister's forgotten life from her infamous death.
Join us for the Film Screening on October 19 at 7:00p.m. in 113 Carnegie.
Join us for a discussion following the film, with faculty members Pearl Gluck (Assistant Professor of Film/Video) and Sarah Clark Miller (Associate Professor of Philosophy and Women's Studies), moderated by HI Director, John Christman.
True Talk: Fake News
True Talk, Fake News: The Search for Truth in Public Discourse. This panel discussion brings together faculty members Rosa A. Eberly (Associate Professor of Rhetoric, Department of Communication Arts and Sciences & Department of English), Patrick Plaisance (Don W. Davis Professor of Ethics, Department of Journalism) Russell Frank (Associate Professor, Department of Journalism), and Matt Jordan (Associate Professor, Department of Film/Video and Media Studies).
Join us for the Panel Discussion on November 9th at 4:30 p.m. in the Foster Auditorium (102 Paterno Library).
Sustain What? Wrestling with the "Truths" of Sustainability and Climate Science
When the term "sustainability" refers to so many complex aspects of our social and environmental life–including sustaining ecosystems, land and water formations, human communities, and ways of life–what do we really mean when we say, "sustainability"?
Join us for a multi-faceted panel discussion, as we consider the important questions surrounding the challenges of high levels of climate change.
Panelists include Bryan McDonald (Sherwin Early Career Professor in the Rock Ethics Institute and Associate Professor of History), Erica Smithwick (Associate Professor of Geography and Director, Ecology Institute) , and Courtney Morris (Assistant Professor of African American Studies and Women's, Gender, and Sexuality Studies). The Panel will be moderated by Peter Buckland, Penn State Sustainability Institute.
Join us for the Panel Discussion on April 4th at 4:00 p.m. in 101 Chambers Building