Presentations will occur online via Zoom promptly at 11:00 a.m.
Save the date for the upcoming Fall talks!

Summer Graduate Student Residents: September 27, 2022

Fall Faculty Residents: October 4, 11, 18, 25

Fall Graduate Student Residents: November 8
Register here.
"Contemporary (Re)Tellings of Isabel la Negra in Puerto Rican Literature" by Emily Sterk, Department of Spanish, Italian and Portuguese.
"Silicon Valley Stories: Reckonings, Recursions, and Infinite Loops" by Robert Nguyen, Department of English.
"Speculative Formations: Queer and Trans Communities in the Long Twentieth Century" by Liz Schoppelrei, Department of Comparative Literature; Women's, Gender, and Sexuality Studies; German.
---
Faculty Scholars in Residence
Register here.
Losing Empire, Becoming Haitian: Indignation, Reparation, and Recognition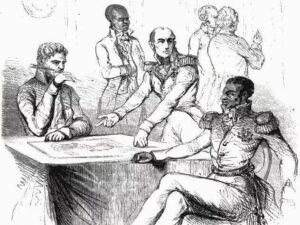 While there exists a vast scholarship on attempts to retain and expand French imperial glory, and equally impressive accounts of anti-colonial resistance, there is comparatively little published research on the restructuring of notions of indignation/dignity or national belonging following imperial loss. This presentation explores how so-called "enlightened" societies reconciled declarations of universal freedoms alongside attacks on the dignity of others. At the same time, it asks in what instances human beings draw a line in the sand to demand respect and mutual recognition for and from others? From merchants and plantation owners to rebellious Haitians, French citizens and colonial subjects alike were clearly impacted by these reorganizations of empire. Reactionary foreign policies in the realms of commerce and immigration could reposition French superiority and alter economic and demographic landscapes. While French refugees demanded reparations for lost property after being expelled from colonial Saint-Domingue, Haiti's new political leadership penned indignant letters of consternation addressed to French aggressors in the early 19th century. From reactionary depictions of foreign bodies to new affirmations of Frenchness against former colonial subjects, this presentation interrogates the process of losing empire from the perspectives of both former colonizers and the newly sovereign.
Image: "Traité de Haïti (1825)." The author of the image is unknown. It is in the public domain, reproduced from Victor Duruy, Histoire populaire contemporaine de la France, Tome premier, Paris, Lahure, 1864.
Register here.
Hauntology, Ruins, Macabre, & a Promise of a Brighter Future in Valentyn Vasyanovych's Atlantis (2019)
In her presentation, Dr. Ladygina will share her ongoing research on Valentyn Vasyanovych's internationally acclaimed film Atlantis (2019), which evokes bombed-out postwar Ukraine of 2025, an alternate universe victorious in its war with Russia but left in total societal, economic, and environmental ruins. This study is a part of her second book project, preliminary titled The Reel Story of Russia's War against Ukraine, which examines cinematic depictions in recent Ukrainian films of the 2013-14 Euromaidan Revolution, Russia's 2014 annexation of Crimea, the Donbas War, and Russia's 2022 full-scale invasion of Ukraine. Dr. Ladygina will use a hauntological approach to her analysis of Vasianovych's film to elaborate on its sobering representation of highly complex dimensions of wartime experiences and position Atlantis as not only a powerful anti-war text but also a pertinent guide to Ukraine's post-Soviet decommunization and its ongoing struggle to forge a new vision for its political future. To do so, she will use Jacque Derrida's concept of hauntology and its adaptation by Alexander Etkind to his theory of post-Soviet cultural memory, as well as Michael Rothberg's theory of multidirectional memory. She will also draw on Kate McLoughlin's influential study of literary representations of war and several critical texts dealing with de-industrial representations. Vasianovych's use of macabre images and aesthetic choices associated with the phenomena known as "ruins port" will be of particular interest in that regard.
Register here.
Timing Recipes in Margaret Cavendish's Poems and Fancies (1653)
Reading poetry alongside how-to literature, my project Seasonal Tastes explores England's intertwined literary and recipe cultures to consider flavor, time, poetics, and climate in the early modern period. By taking poetic and practical discussions of the seasons as its central focus, this study intervenes in recent debates in literary studies, food studies, and the interdisciplinary field of environmental studies. This talk will provide an overview of Seasonal Tastes and, as a case study, consider the temporality of Margaret Cavendish's recipe poems within the larger context of early modern recipe manuscripts.
Register here.
Reading Ovid Through Arab Lenses: The Story of Io in Alfonso the Learned's General Estoria
Alfonso X of Castile (1252–1284) introduced episodes from Ovid's Metamorphoses extensively throughout his ambitious historiographical project, the General Estoria (General history). Since he had to adapt pagan myths to fit a Biblical frame, Alfonso followed the pattern of contemporary Christian interpreters, who used three approaches or stages: historical/euhemeristic, allegorical/glossarist, and moralistic. However, elements appear in each of them that were unfamiliar to the Latin culture of his time and can only be explained through Alfonso's translation endeavors from Arabic into Castilian. Therefore, the descriptions of illustrious men and women in Ovid's story of Io do not adhere to other European models: they study the liberal arts, write books on the sciences, practice astrology and magic, and excel in good customs and courtly pursuits such as music and falconry. These components are particularly distinct in the figure of Mercury, who is an accomplished magician, musician, and expert in the trivium and quadrivium—skills that he uses along with his Arab-like alfange to kill Argus, and thus to allegorically educate the "bestialized" Io. Based on several allusions in the text, I suggest that Alfonso reframes Mercury as a personification of the ancient sage Hermes Trismegistus, epitome of Mediterranean cultural and religious syncretism. In essence, Mercury becomes a Hermes hispanus: a summary of the Islamic Christian, Jewish, classical, and Near Eastern intellectual traditions that converged in the Iberian Peninsula.
Spring 2023: Désirée Lim, Assistant Professor of Philosophy.
Internal Restrictions on Movement: A Reconsideration
---
Register here.
"Partisans of the Soil: Racial Capitalism and Métis Dispossession" by

Wayne Wapeemukwa, Department of Philosophy.
"Powers of Fiction: Scholastic Novels and Forgotten Women in Third Republic France (1870 to 1914)" by Laurie Dubois, Department of French and Francophone Studies.
"Undocumented Times: Rhetorics of a Colonial Moment" by Ismael Quiñones, Department of Communication Arts and Sciences.
"

As Fixed as the Mountains, and as Lasting as the Rivers

" by Christopher Thrasher, Department of History.