Assistant Professor of History at Rutgers University
Visions of Terra Nova: Fishwork and Space-making in the Sixteenth Century
Keynote Event:
Friday, October 6th at 3:30-5:30 pm Foster Auditorium, 102 Paterno Library
How do we recreate a place that has been lost? Around 1505, European mariners created a vast, floating colony in the northwest Atlantic. Centered on fishwork, the mass-production of processed fish, they called this place Terra Nova. Within a century Terra Nova would disappear, replaced by the more familiar configurations of space and imperial occupation which lay the groundwork for modern Canada. This talk will consider how we can recover and visualize Terra Nova and the experience of fishwork in the sixteenth century. It will first examine surviving cartographic and written evidence to show how fishwork made space, and how the geography of Terra Nova was tied to maritime labour. The talk will then consider how we can use a variety of visual evidence – maps, prints, photographs, sketches, petroglyphs – to recover and imagine what it looked like to spend a summer in Terra Nova in the sixteenth century. In combining these approaches, we may find new ways for environmental historians to study sites of premodern extraction which are otherwise difficult to recover.
This keynote event is supported by the Humanities in the World Initiative Faculty Invites program and co-sponsored by the History Department.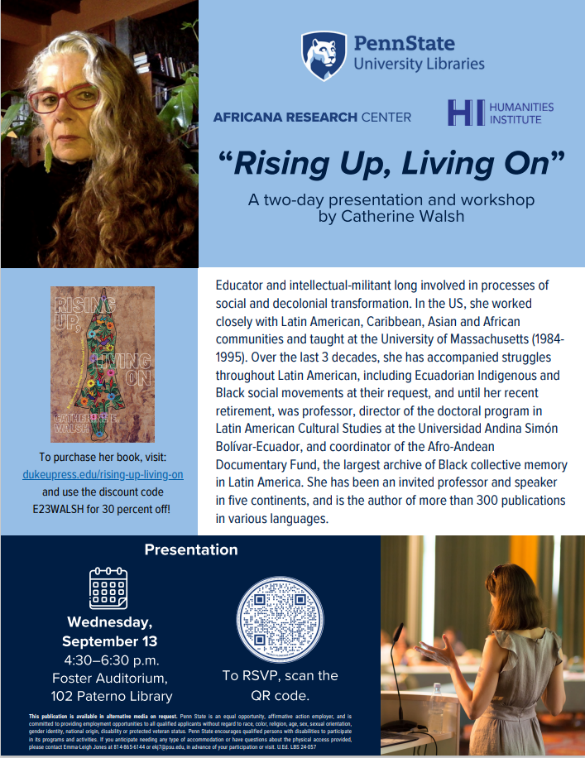 Writing Ocean History & Publishing with The William and Mary Quarterly
Friday, October 6th at 10:30- 11:30 am 102 Ihlseng Cottage
Pre-modern history maintains a terrestrial bias. It is often preoccupied with events unfolding on land, saying little about what happened within Earth's aquatic ecosystems. This terrestrial bias reflects the dearth of historical sources on life under water before the rise of oceanic sciences in the twentieth century. In this workshop, Professor Jack Bouchard will explain how environmental historians are gradually ameliorating the problem. Piecing together the fragments of textual and natural archival sources, he puts forward new interdisciplinary methods to span the terrestrial/aquatic divide and to unveil the mysteries of life below water since the sixteenth century, a world to which most early modern writers were largely oblivious.
Registration is required for this workshop. Email Faisal Husain at fhh102@psu.edu to register.
Presentation:
Wednesday, September 13 at 4:30-6:00 pm. Foster Auditorium, 102 Paterno Library
A talk based on Catherine Walsh's new book Rising Up, Living On.
Educator and intellectual-militant long involved in processes of social and decolonial transformation. In the US, she worked closely with Latin American, Caribbean, Asian and African communities and taught at the University of Massachusetts (1984-1995). Over the last 3 decades, she has accompanied struggles throughout Latin American, including Ecuadorian Indigenous and Black social movements at their request, and until her recent retirement, was professor, director of the doctoral program in Latin American Cultural Studies at the Universidad Andina Simón Bolivar-Ecuador, and coordinator of the Afro-Andean Documentary Fund, the largest archive of Black collective memory in Latin America. She has been an invited professor and speaker in five continents, and is the author of more than 300 publications in various languages.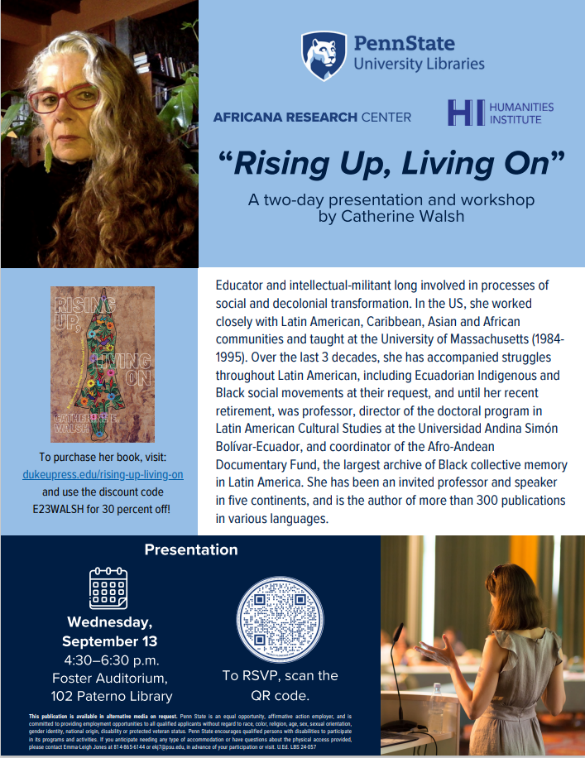 On the Decolonial Hows: Interrogating and Making (our) Praxis
Thursday, September 14 11:00-2:00pm. Dewey Room, W043 Paterno Library.
How to resist and re-exist, to think, theorize, act, teach, study, struggle, create, know, and be in these present times of violence-war, of coloniality-capitalism-heteropatriarchy complexly entwined? This workshop will build on these questions, opening reflection and inquiry on and from our own contexts and situated practice/praxis. It will explore the presence, possibilities, and hows of political, epistemic, and existence-based insurgence, the hows of thinking from and with (rather than studying about), and the hows of processes, practices, and pedagogies-as-methodologies that fissure the dominant order, open and widen decolonial cracks, and sow and grow an otherwise.
APLNG Roundtable Talk and Reception:
"Decolonial Weavings of Language, Memory, Life"
Friday, September 15 2:30- 4:00pm. 117 Earth and Engineering Science Building.
In this interactive talk, Catherine will share her involvement over four decades with struggles in the Americas against the coloniality of language and for decolonial weavings of language, memory, life.