Intellectuals and decolonization in Palestine/Israel
April 15-17, 2023
Organizer: Tamir Sorek (Department of History)
Aside from being a territorial dispute, the Palestinian-Israeli conflict has also generated a struggle of ideas and visions, promoted by intellectuals: influential individuals equipped with access to the media and rhetoric skills. Scholars, journalists, authors, poets, artists, and other public figures have taken part in producing, articulating, and disseminating ideas about the conflict. Thus, intellectuals were no passive observers nor detached interpreters. They produced conceptual and poetic vocabularies that motivated and mobilized the Zionist settler-community and articulated their emerging collective identity; They galvanized Palestinian opposition to Zionism and a set of shared symbols for a shattered community; Functioning as "unofficial diplomats," they participated in the struggle over public opinion abroad, a sphere which has been considered by both sides as crucial for their cause; and they raised internal criticism of their respective national communities and leadership, sometimes speaking in the name of universalist values.
In 2023, the political journey toward justice, freedom, and peace in Palestine/Israel seems to reach an impasse. For Palestinians, seventy-five years after the mass expulsion in 1948 and decades of political subjugation and continuous dispossession, the various tools of struggle they have developed over the years do not seem to produce a tangible achievement. Armed struggle, political negotiations, or the attempt to mobilize international pressure on Israel through non-violent moralistic means have all failed to restore and secure political rights. Furthermore, none of the political visions which have been suggested to replace the colonial condition – a two-state solution, a single democratic republic, or a confederation, seems to have a realistic likelihood to materialize soon. Under these circumstances, the future of Palestinians and Israelis depends on the ability of creative forces to imagine new paths, innovative forms of consciousness, and creative modes of struggle – as well as on their ability to mobilize supports for these ideas.
Could the people we call "intellectuals" play this role? What have been the particularities of intellectual activism in the Zionist-Palestinian context, and what could we learn from that about its future trajectory? The proposed international and interdisciplinary workshop, scheduled for April 15-17, 2023, would bring together scholars and public intellectuals to discuss various dimensions of these questions.
"Apartheid as a new phase of the continuing Nakba"
with novelist Elias Khoury
Saturday, April 15, 5:00 p.m. Palmer Art Museum auditorium
An attempt to rethink the concept of the Nakba as a continuous process that began in 1948 and never stopped. What is the new meaning of the Nakba, and how can we read it in the light of its new phase that began with the fall of the Oslo Agreements, as a project to create an apartheid system in all of Palestine, and the dangers of a new massive ethnic cleansing. What does this new phase mean in daily life in Palestine, and what are its reflections on Israeli society?
The talk will be followed by a discussion with the philosopher Raif Zreik, the philosopher Adi Ophir, and the sociologist Honaida Ghanim.
"Never had a friend"
with Micah Johnson, Assistant Professor of Mental Health Law & Policy, University of South Florida
Sunday, April 16, 5:00 p.m. Freeman Auditorium, HUB-Robeson Center
Dr. Micah E. Johnson performs a breathtaking memoir monologue entitled "Never Had a Friend." The talk describes his experiences with homelessness as a child and how he learned the meaning of friendship and the value of artistic expressions. The piece features diverse types of performance art, including lecture, drama, comedy, poetry, and storytelling. Dr. Johnson delivers a captivating lesson on trauma, race, poverty, and the power of friendship to foster resilience. He hopes the talk will help foster support and compassion for disadvantaged children.
Dr. Micah E. Johnson is a sociologist trained in criminology and psychiatric epidemiology. He serves as an Assistant Professor in the Department of Mental Health Law and Policy at the University of South Florida. Dr. Johnson's research centers around childhood trauma, behavioral health, and juvenile justice. 
This performance will be followed by a discussion with Noura Erakat, Synthia Young, and Alex Lubin.
Reproductive Justice and the Harmful Afterlife of Colonial Reproductive Violence
October 31 – November 2, 2022
Organizer: Susanne Klausen (Department of Women's, Gender, and Sexuality Studies)
Worldwide the effects of settler colonialism continue to be evident in reproductive discourses, practices, policies and laws that inflict violence on the bodies of indigenous peoples, people of color, and others who are deemed to fail to meet the oppressive ideal of the neo-liberal reproductive body. In addition to causing severe harm to vulnerable people, oppressive reproductive practices such as forced sterilization, denial of safe abortion, and environmental racism are ongoing effects of settler colonialism and colonial governance help sustain colonial structures and relations of power. Drawing on the intersectional framework of the global Reproductive Justice movement, this conference examines the continuities of colonial reproductive violence in the contemporary settler colonial state. Speakers will address aspects of reproductive injustice in Bolivia, Canada, Peru, South Africa, the United Kingdom and the United States. 
This conference is sponsored by The Penn State Humanities Institute, Rock Ethics Institute, the Department of Women's, Gender and Sexuality Studies (WGSS), the African Feminist Initiative (AFI), the Brill Professorship, and the Center for Global Studies (CGS).

"Biopolitical Control of Women's Reproductive Bodies in Colonial Intimacies of Empire" with Amanda Gouws, South African Research Chair, Stellenbosch University. 
October 31, 11:30 a.m. – 12:30 p.m.
Professor Gouws will interrogate Italian theorist Giorgio Agamben's Agamben's notions of "the state of exception" and "bare life" in relation to biopolitical reproductive control, linking it to its colonial origins, and think through the Agambian implications of the Supreme Court of the USA's overturning of the Roe v Wade decision in 2022.
"Reproductive Dispossession: A Long History from Slavery to Dobbs" with Jennifer Morgan, Professor of History, Department of Social and Cultural Analysis, New York University.
October 31, 5:30 – 6:30 p.m.
In this talk, drawn from a larger work on race and reproduction that she is developing with Prof. Julie Livingston (New York University), Professor Morgan considers the connection between slave law in the American colonial period, the emergence of "fetal personhood," and the demise of Roe v. Wade.
Collecting the Andes: Museums of Andean Art and Science in the Americas and Atlantic World
November 3-5, 2022 
Organizers: Christopher Heaney (Department of History) and Amara Solari (Departments of Art History and Anthropology)
This three-day symposium brings together scholars and practitioners of art history, history, anthropology, archaeology, and museum design, from Argentina, Bolivia, Ecuador, Peru, and the United States to discuss the collection of Inca and Andean aesthetics, sciences, and natures in the Americas and Atlantic World, from the 1530s to the present. Its wide scope reflects its subject: the forms of Inca and Andean knowing and seeing whose colonial and post-colonial disruption, collection, and recreation shaped imperial and republican museums of anthropology, art, and natural history worldwide, as well as artistic and intellectual responses to colonialism in the Andes. This symposium helps shape a 2024 exhibit in the new Palmer Art Museum.
The three keynotes—listed below—are open to the Penn State community and State College public. We especially encourage the Penn State community to attend the Friday panels as well.
Visit the Conference Website to see the full schedule and learn more about this event.
This conference is sponsored by the Humanities in the World Initiative Faculty Invites program, and is co-sponsored by Department of History, Latin American Studies Program, and the Committee for Early Modern Studies.
"The Odyssey of a Royal Inca Tunic: Regalia, Heirloom, Art" with Andrew James Hamilton, Associate Curator of Arts of the Americas, Art Institute of Chicago. 
Thursday, November 3, 5:00 p.m. Palmer Art Museum auditorium
An intricately patterned tunic in the collection of the Dumbarton Oaks Museum is the most famous work of Andean art in the world. However, little has been known of its life before it was acquired by Robert Woods Bliss, the founder of Dumbarton Oaks, in the 1950s. This talk explores how the 500-year-old tunic, originally destined for the wardrobe of an Inca emperor, may have journeyed to the walls of a museum. At the same time, it considers the consequences of its transformation as an object—from regalia, to heirloom, to art—for those who have cared for and about it.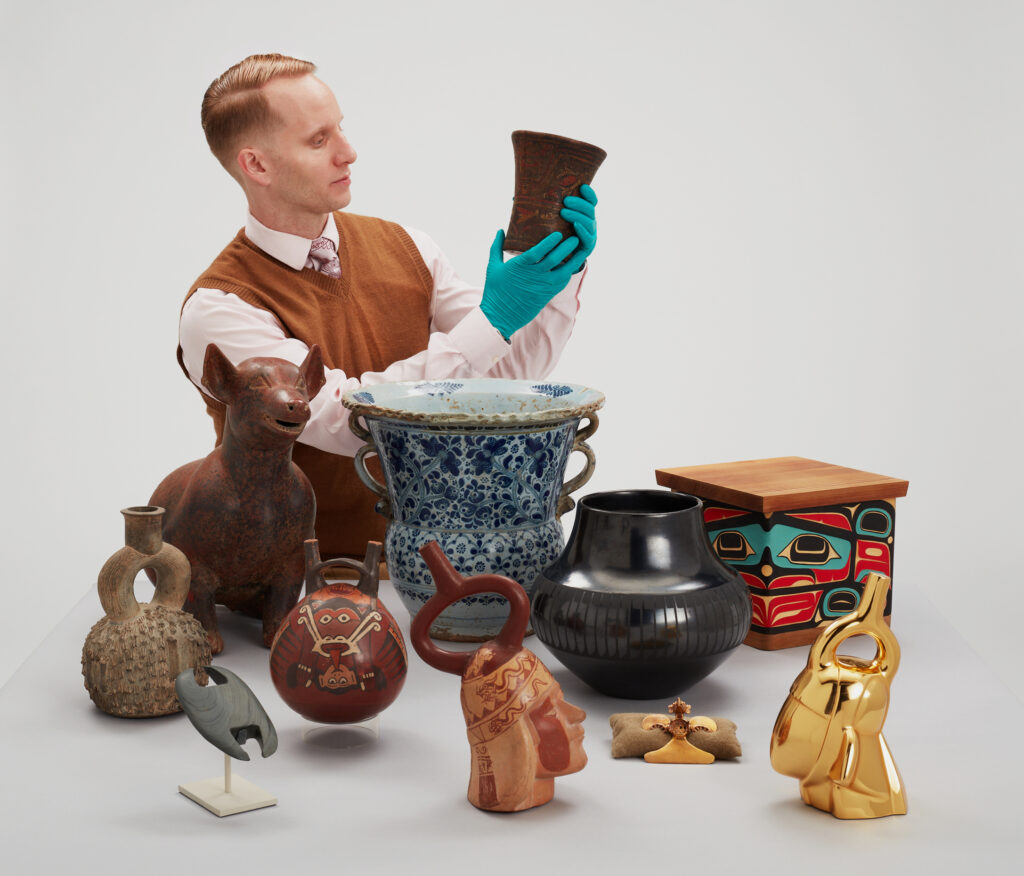 "In search of an aesthetic I can call my own" with Kukuli Velarde. 
Friday, November 4, 12:00-1:30 p.m. Pasquerilla Spiritual Center, 130 Garden Room
Kukuli Velarde is a Peruvian artist based in the United States since 1987. Her practice revolves around the consequences of colonization, reclaiming a gaze both synchronous to our time yet rooted in pre-columbian and colonial sensibilities. She has received awards and grants such as the Guggenheim Fellowship (New York- 2015), the United States Artists-Knight fellowship (California- 2009), the Pew Fellowship in Visual Arts (Pennsylvania- 2003), the Anonymous is a Woman award (New York- 2000), the Joan Mitchell Foundation grant (New York- 1997), among others. In 2013 her project CORPUS got the Grand Prize at the Gyeonggi Ceramics Biennial in South Korea. She participated as faculty at the Skowhegan School of Painting and Sculpture in 2022.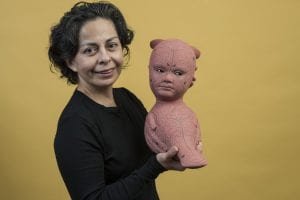 "Collecting the Ancestors: skeletons and mummies and their history in reconstructing health and medical practices in the pre-Hispanic Andes" with John Verano, Professor of Anthropology, Tulane University. 
Friday, November 4, 5:30 p.m. Foster Auditorium, Paterno Library
Beginning in the nineteenth century, Peruvian, European and North American explorers and archaeologists collected human remains from burial caves in the highlands and cemeteries on the desert coast of the Andes. In Peru, collectors found skulls showing evidence of trepanation (skull surgery) in pre-Hispanic burial houses and caves. These medical practices were brought to world-wide attention by archaeologists like Julio Tello, a descendent of those medical ancestors in the central highlands, who devoted the rest of his life to excavating archaeological sites and building museum collections of ancestral mummies and skulls. This talk will look at how the study of human remains played an important role in documenting health conditions and medical practices in the pre-Hispanic Andes, and how these studies continue to flourish today through the work of a new generation of young bioarchaeologists.