Annual Lecture and HI Outstanding Alumni Award
"Desegregating Comics: Debating Blackness in the Golden Age of American Comics" with Qiana Whitted
Wednesday, March 1 at 4:00pm
Hintz Family Alumni Center
and on Livestream
Qiana Whitted is a professor in the Department of English and African American Studies at the University of South Carolina. She specializes in 20th-Century African-American literature, cultural studies, and American comic books. She is the co-chair of the International Comic Arts Forum and the editor-in-chief of Inks: The Journal of the Comics Studies Society. Her book EC Comics: Race, Shock, and Society Protest won the 2020 Eisner Award for Best Academic Scholarly Work. She is also the author of "A God of Justice?" The Problem of Evil in 20th Century Black Literature (2009) and co-editor of Comics and the U.S. South with Brannon Costello (2012).
Dr. Whitted's lecture took a closer look at debates over race and blackness in American comics produced during the first half of the twentieth century, as the comic book industry's Golden Age converged with the era of Jim Crow. While racist caricature remained central to popular comics of the day, this discussion makes the case for a more complex narrative and aesthetic landscape, one expanded by the oppositional reading practices of African American youth and the experimental efforts of comics artists, writers, and editors to reach a wider audience. Her lecture considered the impact of race and difference in accusations about the harm that comic books caused younger consumers, as well as the more aspirational claims about the way that this popular medium could be used as a tool for social justice during the 1940s and 1950s.
This event was followed by a reception for attendees.
---
Congratulations to the Humanities Institute Outstanding Alumni Award Winner of 2023: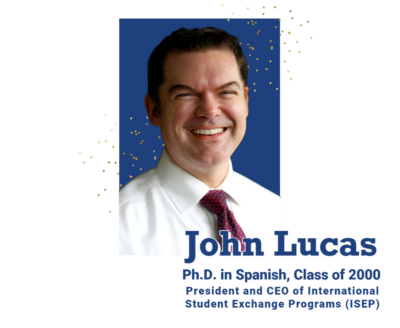 Dr. John S. Lucas is President and CEO of ISEP Study Abroad, the world's largest exchange network of more than 350 post-secondary institutions in over 60 countries. Previous leadership roles include Provost and Executive Vice President at the School for International Training, Associate Vice President of Academic Programs at IES Abroad and Center Director in Barcelona and Alicante for CIEE. He holds a Ph.D. and an MA in Spanish Linguistics from The Pennsylvania State University, where he was an Edwin Erle Sparks Fellow in the Humanities. He also holds an MA in management from SIT. Dr. Lucas is the current Chair of the Board of the Forum on Education Abroad. He publishes widely and has held adjunct faculty roles at Georgetown University and the Universidad de Alicante, Spain. He speaks Spanish, Catalan, French and German.
Lucas received his award during the Humanities Institute's Annual Event on Wednesday, March 1 of 2023.
Photo Gallery