Public Humanities showed me that there's a space in the world where my studies and personal passions can intersect, and be honored. I've learned that creativity and social justice go hand in hand, and there are so many ways to tell meaningful stories that positively impact people's lives. The support I've received through the Institute has given me direction far beyond school, and really embodies the wholesomeness of the humanities.
~Sara Jacques, Penn State University '20 | Public Relations, African American Studies | PHF Project: Whiteness
Make Digital Media for Social Change
Become a Public Humanities Fellow for 2021-2022!
Take two courses that will develop your ability to:
Create hands-on multimedia projects (documentaries, podcasts, mixed media, performance art) that focus on your topics of social importance

Facilitate discussion of current social topics

Develop community partnerships and public engagement
To participate: Enroll in LA235N/COMM235 for Fall '21 Introduction to Public Humanities, Tuesday/Thursday 9:05-10:20 (counts for GA or GH credit)
Plan for LA335 for Spring '22

Send an email describing your topics of interest and why you want to be a Fellow to us at humanities@psu.edu
Fellows will receive a $1000 stipend when the Fellowship is complete.
Keep reading for more details:
Are you an undergraduate student with an interest in the humanities who cares about social issues? 
Do you wonder how you can connect the study of history, philosophy, literature or other humanities subjects to real world situations?
Public Humanities work aims to translate traditional humanities disciplines into formats accessible for non-academic audiences. This can take multiple forms, such as museum and digital exhibitions; public lectures and discussions; historic site interpretation; musical and theatrical performance; podcasts; and documentary film and video.
A Public Humanities Fellowship at the Humanities Institute will provide students with experience working with public audiences and community groups to incorporate the academic study of history, philosophy, literature or other humanities subjects into real-life situations.
Benefits:
At the core of the Humanities Institute's mission is the recognition that the work of the humanities is directly relevant to pressing social issues in culture and civic life today. The Public Humanities Fellowship takes this one step further, with a commitment to equipping undergraduates with tools useful for real-world application. Students will learn aspects of translating humanities work for diverse populations and engaging a range of communities in conversations that address and affect social concerns. This experience will allow students to explore building a career in the humanities, including how to incorporate public humanities' methods into post-graduation employment.
Successful Public Humanities Fellows will gain narrative story-telling skills for communicating with non-academic audiences, gain technical and video-production skills for reaching wide audiences, and work with local community members at public outreach events. Fellows will have special opportunities to connect with visiting scholars doing important work in the humanities in the U.S. and around the world, and will participate in discussion of ideas and pertinent topics happening in the humanities today. Fellows will also have the opportunity to develop and disseminate their own projects of importance to them.
Students will receive a stipend of $1000 upon completion of the coursework requirements.
Eligibility:
The Public Humanities Fellowship program is open to any Undergraduate Student with an interest in the Humanities.
Program Requirements and Description:
A Public Humanities Fellowship will be awarded to students upon successful completion of the following:
1. Fall Course: Introduction to Public Humanities, LA235N (with grade of C or higher)
2. Spring Course: Public Humanities Capstone Course, LA335 (with grade of C or higher)
Application Requirements:
Cover page: Name, contact information, degree and department/program, and expected date of graduation
Statement of Intent: Briefly describe why you are interested in the Fellows program, what your topics of importance are, and when you plan to take the course Introduction to Public Humanities (offered every fall). *Please note: you should plan to take the Capstone Course in the spring directly following the Introduction course.
Please note: There is no application deadline to participate in this program. Declaration of intent can be made at any time. Email application materials to humanities@psu.edu to declare intention of participation in the Fellows program. All applicants will receive an email receipt; please email humanities@psu.edu if you do not hear back within one week.
Course Information:
Introduction to Public Humanities, LA235N/COMM235N
Tuesdays/Thursdays, 9:05AM-10:20AM, Fall 2021
This course will introduce students to the ideas and skills that comprise the public humanities. Students will learn how to communicate the humanities' analytical perspectives and bodies of knowledge to diverse audiences outside academia. Through readings, field trips, group work, and skills training, students will explore how public humanities can address real-world issues by building bridges between people and fostering empathy within and between communities. Students will gain experience with multimedia platforms (such as documentary film, podcasts, etc.) as tools for public dissemination and will plan an independent project (to be completed by enrolling in the Public Humanities Capstone Course for Spring 2022).
Public Humanities Capstone Experience, LA335
Time/Day TBD, Spring 2022
Prerequisite: Introduction to Public Humanities
This course is the Capstone Experience for Public Humanities Fellows in the Humanities Institute. The course provides students with hands-on experience applying skills and insight gained during the prerequisite course, Introduction to Public Humanities. Students will gain substantive experience in research, digital media production, and community engagement. The centerpiece of the course is an individual digital public humanities project on a topic of the student's choosing. Students will also participate in public outreach events in conjunction with the Humanities Institute, actively participating in a community engagement plan in coordination with the Institute's documentary film series, HumIn Focus.
Our first cohort gave us three timely and meaningful films:
Whiteness, by Sara Jacques
Being Vulnerable, as a Man, by Yebo Chen
Juana's, by Carolina Navarro
Lauren Kooistra, Program Coordinator
The Public Humanities Fellows program will provide students with more than class experience. Students will be a part of a cohort, and have special opportunities to connect with scholars doing important work in the humanities. They will participate in discussion of ideas and pertinent topics happening in the humanities today and will develop and disseminate their own projects of importance to them. Lauren Kooistra, HI Associate Director, will oversee each cohort and work with them to arrange meaningful engagement with the many opportunities and contact points the HI can provide.
Elizabeth Gray, Course Coordinator
Public Humanities Postdoctoral Scholar
Elizabeth Gray earned her doctorate in Comparative Literature from Brown University. She is currently working on a book manuscript, The Poetics of Intervention: Art and Activism in Contemporary Latin America, which explores literature, performance, and protest in spaces of present-day crisis. The project centers on the artistic practices of excluded communities and amplifies innovative models for responding to social and ecological issues. She has worked as a public school teacher in the United States, Brazil, and Chile, and facilitates workshops in arts and social justice. Over the last fifteen years, she has also worked as a program coordinator and teaching artist in youth arts organizations such as The Center for Teen Empowerment, Books of Hope, and the Louder Than a Bomb Youth Poetry Festival.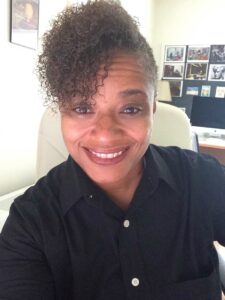 Vertna West, Course Coordinator
Associate Teaching Professor of Humanities and Communication
Vertna West holds a Ph.D. in Media & Communication Studies with an emphasis on Film & Philosophy, an MFA in Film & Video Production with a Complementary Study in Mass Communication, and a BFA in Film & Video Production. Her interest in expressing herself through diverse representations in film/books is a culmination of over 25 years of working as a multi award winning visual artist/filmmaker and professor creating in forms ranging from handmade/cameraless films, to 16mm and super 8 films, to multimedia, and broadcast television. She's interested in deconstructing preconceived media influences and assigned identities in an effort to peel back layers to reveal elements of universality. She believes in the idea and practice that we are one; we are all connected.
This program is generously funded by a grant from the Andrew W. Mellon Foundation.